This weekend, we put the first boxes in the new studio and I'm so excited!  Studio pics to follow in the near future.  In the meanwhile, I've been using the time between the seams to chip away at the character designs for Rabs and Kalara.  Character sheets have been my happy place lately!
Rabanne Arore, Big Muscles, Big Heart
I wanted to challenge myself with Rabs' design with a muscular body type and her glowing hair. She's really captured my muse with her fun tatts, color schemes, and themes, so you'll definitely be seeing more of her in my sketchbook!  This particular piece was meant to be in the style of a more traditional ttrpg rulebook style source book image, as well as a base for me to put different clothing on.  More fashions are sure to follow!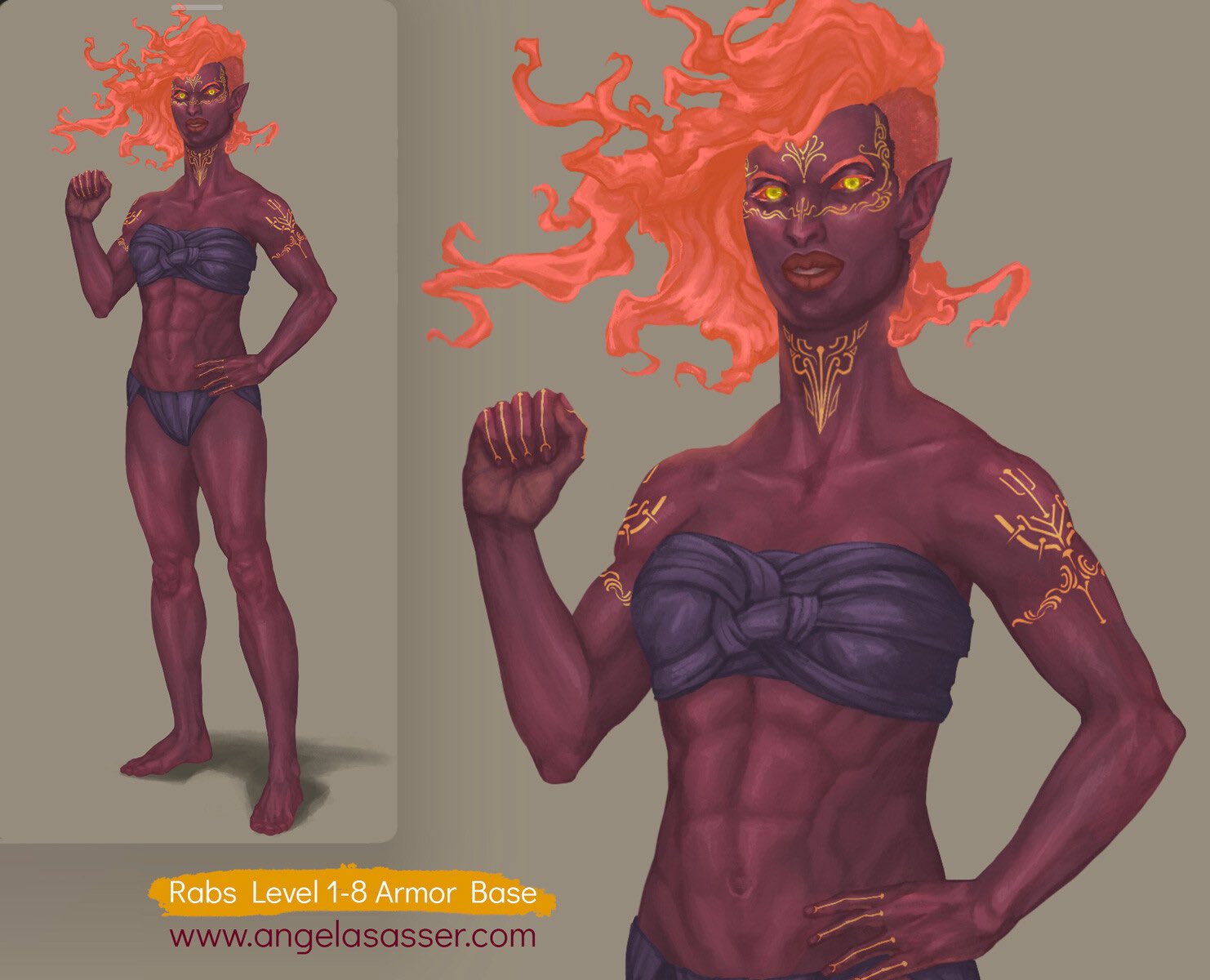 Watch a time lapse of how I created this piece, along with Rabs' tattoo sheet here.  She was painted using the Acrylic brushes in Procreate on the ipad.
Kalara Vadras, The Uncrucified
I meant to save this image for a proper release with a full sheet of FX and turnarounds, but our house move is taking forever, so I thought I'd share a WIP!  You guys got to learn a little bit more about Kalara last month via Fantasy Indies August.  She's been inspiring me for years since our Exalted ttrpg game, so it was about time she got a new look!
This new look captures more of the elegant merchant negotiator she becomes after her years on the run from the Guild.  
Kalara's old look as a reminder:
More to come when I explore the rest of her character sheet!  I'm especially excited about drawing the phoenix on the back of her jacket.  The redesign was also created in Procreate using the Studio Ink Pen for color flatting to achieve a comic book feel, as this design is meant as a precursor to a prospective webcomic for the character.
Both Rabs and Kalara utilized helpful stock poses from the awesome Jookpubstock, who has been an excellent resource for inspiration!
—-
Art is going to slow down even more over the next month while we move our small boxes over to the new place ourselves, with the big stuff being handled by the movers.  There's a light at the end of the tunnel finally and I'm excited to really settle properly into a new permanent studio art cave!
♥ Ang